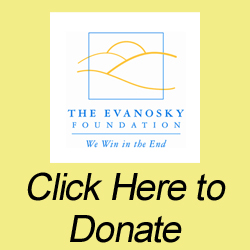 The Evanosky Foundation is certified as a 501(c)(3) nonprofit organization, and all donations are tax-deductible. A copy of the Foundation's IRS tax letter can be viewed by clicking here. You may send your check to:

The Evanosky Foundation
234 Aspen Lane
Aurora, IL 60504
(630) 236-8039
What will my donation be used for?
Your donation will be used to support:
Medical Research — We are currently supporting research at Duke University to find a cure for MLD. Dr. Joanne Kurtzberg is leading research that has the potential to stop the progression of MLD and other diseases, and we are hoping that human safety trials can begin soon.
Newborn screening — Because children are often diagnosed too late for any treatment to be effective, The Evanosky Foundation is working to test for these fatal diseases at birth so children can receive treatment. Within Illinois, the Foundation worked with Senator Dale Righter to pass SB1566, which expands newborn screening to include five diseases that are similar to MLD.
Family support — Families that are battling against a leukodystrophy are often under significant financial and time pressures because of their child's disability. Also, if a child is a candidate to receive a stem cell transplant, the family will often have to move, maintain a residence near the medical facility, and miss work. For these cases, The Evanosky Foundation provides funds and medical equipment to help these families.
Matching gifts
Your donation may be eligible for matching by your employer! The Foundation has received employee matching gifts from the following companies:
Covidien
Grainger
HSBC
JPMorgan Chase
Kaplan
LexisNexis
McDonald's
Nicor Gas
Starbuck's
Tellabs
Jones Lang LaSalle
Sanofi
Bank of America
Please go to your HR department or website to identify your company's matching gift criteria. The Foundation is a 501(c)(3) nonprofit organization, and we can help you fill out any necessary paperwork!
Payroll Deduction
The Evanosky Foundation is included on this year's list of pre-screened charities in IBM's Employee Charitable Contribution Campaign! Employees of Sacramento County, California may also donate to the Foundation via payroll deduction through their Employee Giving Campaign. If you are an employee of these organizations and are interested in designating The Evanosky Foundation as your charity of choice, please contact your employer's human resources professional for more information.