Treatment
Currently, the only form of treatment for a person diagnosed with MLD is a bone marrow or stem cell transplant, and these are typically only performed on people who do not display any significant symptoms of MLD. Gene therapy research is ongoing, but less-toxic transplants are currently showing the most promise. For more information on MLD research efforts, please click here.
For information on treating unborn babies who may be affected by MLD, please click here.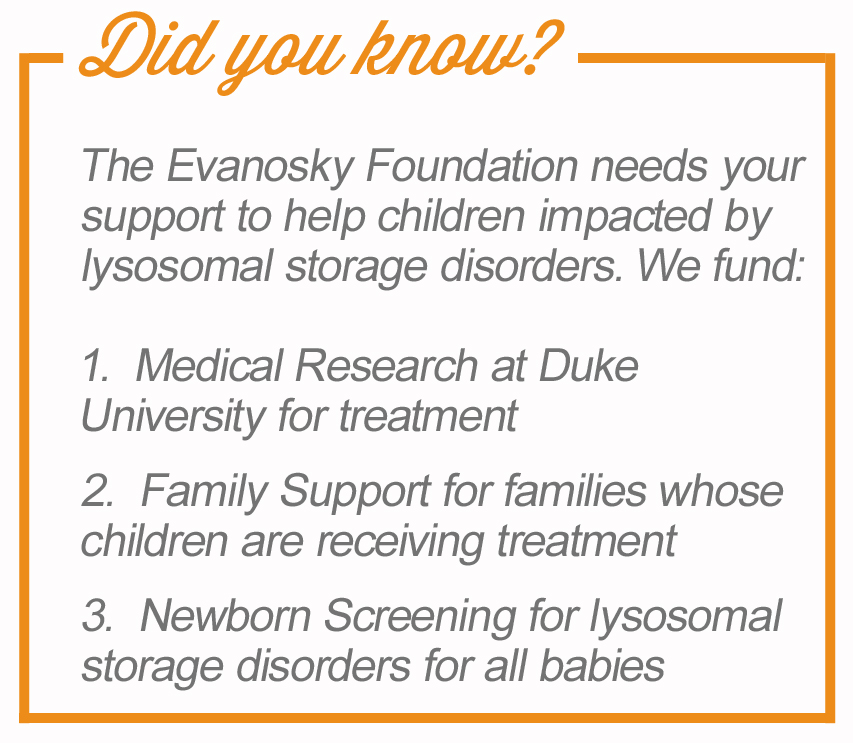 Various hospitals in the country currently perform bone marrow and stem cell transplants. Duke University is a leader in performing stem cell transplants in children with MLD, while University of Minnesota has performed many bone marrow transplants for MLD patients. Click here for a slide show of Jack Evanosky's stem cell transplant journey.
The advantage that stem cell transplants have over bone marrow transplants is that stem cells do not have to match as closely as bone marrow, and therefore are much easier to obtain. In addition, doctors have found that patients who receive stem cell transplants seem to show more improvement than patients who receive bone marrow transplants. Click here to read a paper on the effectiveness of umbilical cord stem cell transplants for children with inherited metabolic disorders such as MLD.
Click here to view a video of Dr. Joanne Kurtzberg discussing stem cell transplants (click on "Dr. Joanne Kurtzberg" in the lower right-hand corner of the page that appears). Click on "Cord Blood Transplants" to hear MLD mother Jane Trimper discuss the benefits of using cord blood for stem cell transplant.
Click here to read about the latest efforts in MLD research.
What is cord blood?
Who should I contact for more information?
If you know of a child or loved one who was recently diagnosed with MLD and are looking for information regarding umbilical cord stem cell transplants, please contact Dr. Joanne Kurtzberg at Duke University by e-mail at kurtz001@mc.duke.edu. You may also view the Pediatric Blood and Marrow Transplantation site.
If you know an expectant mother with a family history of MLD or another metabolic disorder, please click here to find out more about a Duke study involving fetal transplants for metabolic disorders.
For developmental evaluations and questions regarding the progression of MLD symptoms, Dr. Maria Escolar at Children's Hospital of Pittsburgh of UPMC and the University of Pittsburgh is a recognized expert in this field. Please click here to find out more information about Dr. Escolar and the Program for the Study of Neurodevelopment in Rare Disorders (NDRD at Children's Hospital of Pittsburgh of UPMC).
For information on how to care for a person or child with MLD, click here.
Published research on transplant effectiveness for leukodystrophies
Other organizations and resources
Click here for additional resources that may be helpful for families care with a child or person affected by MLD.
Hunter's Hope was founded by Hall of Fame quarterback Jim Kelly after his son, Hunter, was diagnosed with Krabbe's Disease, which is another leukodystrophy. Click here to read an article on Hunter and their organization's efforts.
The MLD Foundation offers an e-mail support group for families affected by MLD.