Newborn Screening
As of July 11, 2017, the State of Missouri became the first state to pass legislation requiring newborn screening for Spinal Muscular Atrophy (SMA)!
SMA is a disease that robs people of physical strength by affecting the motor nerve cells in the spinal cord, taking away the ability to walk, eat, or breathe. It is the number one genetic cause of death for infants, and approximately 1 in 10,000 babies are affected.
The bill that was passed came as a result of a breakfast meeting between Bob Evanosky, Becky Ruth State Representative District 114, and two SMA families who attended a newborn screening conference last September in Atlanta.
THERE IS A CURE FOR SMA, which means that many families will no longer have to experience the agony of receiving a death sentence for their child! This is amazing!
We are working towards something similar for MLD, and hopefully one day I'll be able to share similar news with you for "our" disease.
Following on the successful passage of IL SB1761 in November 2007, MO HB716 in July 2009, and legislation in New Mexico in March 2010, The Evanosky Foundation will continue to advocate for newborn screening for MLD, as well as other lysosomal storage disorders (LSDs), here in the United States. At present, commercialized, high-output newborn screening tests (also known as assays) have been developed for five LSDs: Fabry, Gaucher, Pompe, Niemann-Pick and Krabbe disease. These tests have been subjected to rigorous quality controls and have been certified accurate and appropriate to use in state newborn testing labs. For these diseases, the newborn screening tests have been designed in such a way that one assay can test for five diseases. Researchers are currently developing a newborn screen assay for MLD, which is also an LSD, that can leverage the existing LSD assays. We promise that we will work with both federal and state public health authorities to include MLD as a core disease that is recommended for screening in all states.

We have also developed a working relationship with the Centers for Disease Control Newborn Screening Quality Assurance Program (NSQAP) and are assisting them with their newborn screening program for lysosomal storage disorders. At present, the NSQAP supports 73 domestic laboratories as well as an additional 53 international newborn screening laboratories. By identifying children affected by an LSD at birth, The Evanosky Foundation knows that a family will have more treatment options available—like cord blood stem cell transplants and/or enzyme replacement therapy (see the LSD Fact Sheet by clicking here).
Right now, many children are misdiagnosed with other diseases or leukodystrophies and may not receive a correct diagnosis of MLD or their diagnosis may be delayed. This makes it difficult to identify when symptoms appear or the optimal time to begin treatment. However, once newborn screening is widely available in the United States, we will be able to identify children affected by MLD at birth and be able to learn more about how the disease progresses. In order to capture this valuable information, a registry or systematic method for capturing this data must be used. As a result, The Evanosky Foundation gave $35,000 to Dr. Maria Escolar, Director of the Program for the Study of Neurodevelopmental in Rare Disorders (NDRD) at Children's Hospital of Pittsburgh of UPMC, to develop an internet-based system to track this information. This system has been prototyped and will track approximately 350 variables to help researchers understand the progression of MLD and how the disease responds to different treatments. It is our hope that this investment will be the foundation for a registry, or database, that can be used not only in the United States, but throughout the world.
How does newborn screening work?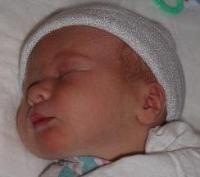 Currently, when a baby is born, its heel is pricked and a small amount of blood is taken and placed on a card. This dried blood spot card is then sent to the newborn screening lab for the state where the baby was born, and the baby is tested for a variety of diseases. However, the number of diseases a baby is tested for is entirely dependent on what the state has chosen to test. Some states test for as few as 7 diseases while others, such as New York, test for over 40.
A Federal Newborn Screening advisory panel is in place that helps to provide guidance to the states on what diseases they should test for. In addition, each state has its own Newborn Screening (NBS) advisory panel.
Comments on newborn screening
Read the transcript of Bob Evanosky's comments at the June 2006 meeting of the Federal Newborn Screening advisory panel here.
Read an article that Bob Evanosky wrote for the Acid Maltase Deficiency Association (AMDA), which funds research and promotes awareness of Pompe Disease.
On June 16, 2008, Bob Evanosky was a featured speaker at the Ethics in Cellular Therapy Conference at Duke University. The conference focused on discussing newborn screening and treatment alternatives for children with inborn errors of metabolism and the ethics involved. An "inborn error of metabolism" refers to children who were born with their bodies missing something such as an enzyme, protein, etc. which allow the body to work right. Since children with MLD are missing the enzyme ARSA, MLD is considered to be an inborn error of metabolism. Bob Evanosky spoke from the point of view of a parent advocate. You can view Bob's entire presentation by clicking here.
What is being done to improve newborn screening?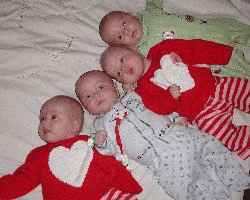 The most recent national improvement in newborn screening legislation, The Newborn Screening Saves Lives Act, sponsored by Senator Christopher Dodd (D-CT), was signed into law by President Bush on April 24, 2008. The bill provides for expansion of screenings for newborns and will authorize a grant program to increase funding to state and local health agencies to provide screening, counseling, and health care services to newborns and children who have or are at risk for genetic disorders. Michael S. Watson, PhD, FACMG, executive director of the American College of Medical Genetics praised the new law, stating, "With the current expansion of newborn screening panels, it is estimated that about 10,000 of the 4.1 million babies born each year in the United States will be identified with one of the conditions for which treatment will have a significant impact on long-term outcome." To read the Newborn Screening Saves Lives Act, click here.
However, in spite of this improvement and expansion in laws relating to newborn screening, the diseases newborns are actually screened for still varies widely, depending upon the state a child is born in. In 2007, The Evanosky Foundation helped to author and spearhead the passage of Illinois Senate Bill SB1566, which provides for the implementation of newborn screening in Illinois for Pompe, Krabbe, Gaucher, Niemann-Pick and Fabry diseases. Each of these diseases is similar to MLD and is classified as a lysosomal storage disorder. SB1566 also mandates that other lysosomal storage disorders—such as MLD—be added to the newborn screening panel once tests for those diseases have been developed.
Metachromatic leukodystrophy, Pompe disease, Krabbe disease, and MPS I and II are all lysosomal storage disorders which will lead to premature death if left untreated. Unfortunately, most children today are not diagnosed until it is too late.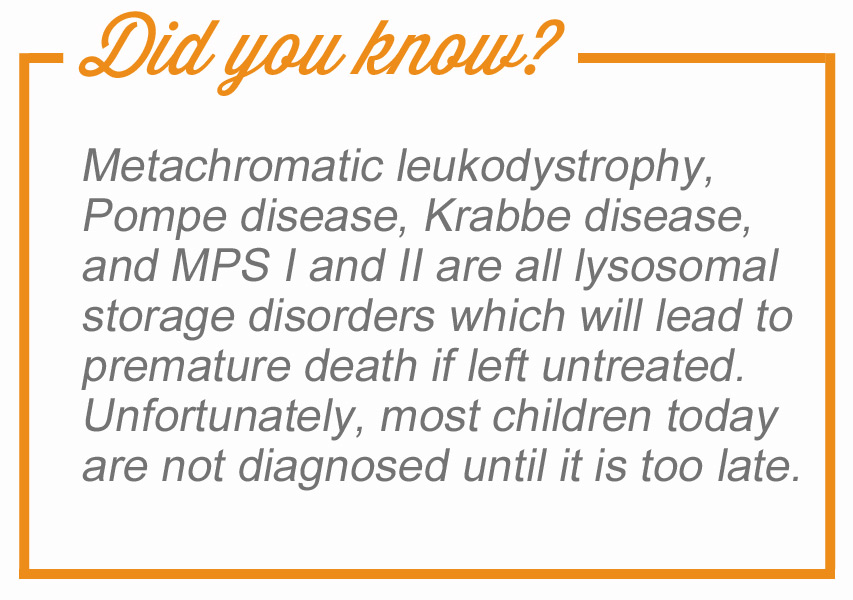 In 2009, The Evanosky Foundation advocated for and promoted newborn screening in Missouri by supporting Missouri House Bill 716. Click here for more information!
In March 2010, New Mexico became the third state in the U.S. to expand newborn screening. The implementation of HB 201 will allow approximately 28,000 babies each year to be screened for Fabry, Gaucher, Krabbe, Pompe, and Niemann-Pick diseases, which is especially beneficial for New Mexico since it has the highest incidence of Niemann-Pick C disease in the country.
We are glad to report that on August 23, 2011, Illinois Governor Patrick Quinn signed Illinois Senate Bill 1761 into law. IL SB1761 was created by The Evanosky Foundation and filed by Illinois Senator Dale Righter on February 9, 2011. This law requires the State of Illinois to test all future newborns for Mucopolysaccharidoses I and II (MPS I and II ) and Severe Combined Immunodeficiency (SCID). Illinois is the first state in the US to screen for MPS I/II and will set the standard for all others to follow.
It is The Evanosky Foundation's goal to continue to support and advocate for early screening of all lysosomal storage disorders (there are 40 of them!) and we will not stop until all 50 states test all of their babies for these terrible diseases.
Is there a newborn screen test for MLD?
Dr. Michael Gelb of the University of Washington has developed a newborn screening test, or assay, that will detect 5 rare diseases (Gaucher, Krabbe, Pompe, Niemann-Pick and Fabry disease), all of which are related to MLD. Currently only one state, New York, is using this assay, but they are only testing for one of the diseases, Krabbe. Dr. Gelb is now working to include MLD in this assay as well, and we believe this should occur very soon.
What are the next steps?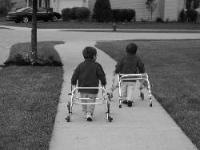 After an assay for MLD has been developed, it will need to be "productionalized" so that the test can be run quickly on thousands of babies per day. A pharmaceutical company has been heavily involved in doing this type of work and has committed to doing this for MLD. The Evanosky Foundation is working with this pharmaceutical company, the Federal Newborn Screening Committee, and the State of Illinois Newborn Screening Committee to implement the benefits of Dr. Gelb's tests in Illinois and perhaps all of the other states as well.
We at The Evanosky Foundation believe that newborn screening is critical to the identification and treatment of MLD. If newborn screening had been available for all of our children, we would have had the opportunity to have all of them transplanted and perhaps cured of MLD.
The Evanosky Foundation will continue to pursue newborn screening efforts at both the federal and state levels to ensure that fatal lysosomal storage disorders are detected as soon as possible.
How do I get additional screening for my baby?
Save the Babies Foundation provides information on what diseases each state tests for as well as information on how to obtain additional screening for your baby or young child.